2023 Daniel Health Challenge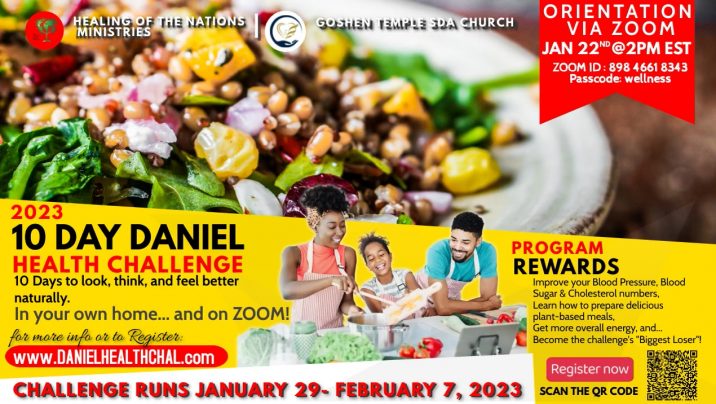 Foods have the power to heal our bodies or to harm our bodies. The Daniel Fast includes nutrient-dense, whole foods that are vital for good health and excludes harmful foods that are loaded with toxic fats, sugars, and chemicals.
Foods Included on the Daniel Fast
Only foods that are grown from seeds are allowed on the Daniel Fast. This includes vegetables, fruits, whole grains, nuts and seeds, legumes, and healthy fats. Water is the primary beverage allowed.
Vegetables – The basis of the Daniel Fast
Organic fresh or frozen are best.
Vegetables to consume on the fast include: artichokes, asparagus, beets, broccoli, Brussels sprouts, cabbage, carrots, cauliflower, celery, chili peppers, collard greens, cucumbers, eggplant, garlic, ginger root, kale, leeks, lettuce, mushrooms, mustard greens, okra, onions, parsley, potatoes, radishes, rutabagas, scallions, spinach, sprouts, squashes, sweet potatoes, tomatoes, turnips, watercress, yams, and zucchini.
Fruits
Organic, fresh or frozen fruits are best.
Low-glycemic fruits such as lemons and limes, berries (strawberries, blackberries, blueberries, raspberries), granny smith apples, and grapefruit do not cause spikes in your blood sugar. You should have a maximum of ½ cup each of berries, granny smith apple and grapefruit per day.
Higher carbohydrate fruits should be limited to no more than ¼ cup per day. These include apricots, oranges, apples, apricots, bananas, boysenberries, cantaloupe, cherries, cranberries, figs, grapes, guava, honeydew melon, kiwi, mangoes, nectarines, oranges, papayas, peaches, pears, pineapples, plums, strawberries, tangelos, tangerines, watermelon, and pomegranate.
Healthy Fats
Avocados and avocado oil
Olives and extra virgin olive oil
Coconuts, coconut butter, coconut oil
Coconut butter
Whole Grains
Most versions of the Daniel Fast include whole grains. It is best to only consume sprouted ancient grains, gluten-free oats (soaked), brown rice, quinoa, and buckwheat. These grains and other moderate carbohydrate vegetables should be limited to no more than one cup per day.
Beans and other Legumes
Beans and legumes are high in starch and carbohydrates. These should be limited to around ½ a cup daily.
It is best to buy organic beans and legumes, soak them overnight, and cook them well to avoid digestive symptoms. The beans and legumes included are:
Beans – Pinto beans, black beans, kidney beans, cannellini beans, white beans)
Peas – split peas, black-eyed peas
Peanuts
Lentils
Nuts and Seeds 
Raw, sprouted, or dry roasted with no added salt are best.
All nuts, including but not limited to hazelnuts, almonds, brazil nuts, pecans, cashews, macadamia nuts, pine nuts
Seeds including flax seeds, sesame seeds, pumpkin seeds, sunflower seeds, chia seeds, hemp seeds
Nut and seed butters with no added sugars or preservatives
Herbs and Spices
Organic and fresh (if available) herbs and spices are best.
Turmeric, cilantro, basil, oregano, ashwaghanda, ginseng, star anise, milk thistle sage, Echinacea, valerian, passionflower, lemongrass, green coffee bean extract, peppermint, chamomile, coriander, maca, and kava kava
Beverages
Water (clean, filtered)
Almond milk, coconut milk, macadamia milk, coconut water, coconut kefir, and fresh green juices with no added ingredients including preservatives.
Organic herbal teas
Coffee is not recommended on the Daniel Fast. However, if you do consume coffee, limit it to one cup per day. It is also important to drink organic and mold-free coffee.
Other
Hypoallergenic vegan-based protein powder such as SuperDigest Protein
Fermented vegetables
Raw Apple Cider Vinegar (ACV)
Small amounts of stevia and monk fruit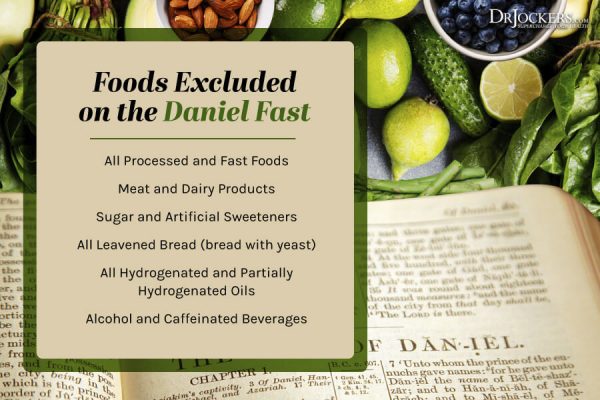 Foods Excluded on the Daniel Fast
All meat and animal products including but not limited to beef, lamb, pork, poultry, and fish
All dairy products including but not limited to milk, cheese, cream, butter, and eggs
All sugars and sweeteners including but not limited to honey, syrups, molasses, date, honey, agave, and cane juice
All leavened bread including Ezekiel Bread (it contains yeast and honey) and baked goods
All refined and processed food products including but not limited to artificial flavorings, food additives, chemicals, white rice, white flour, and foods that contain artificial preservatives
All hydrogenated and partially-hydrogenated fats and highly processed oils (margarine, shortening, canola oil, corn oil, vegetable oil, grapeseed oil, soybean oil, sunflower oil, safflower oil, rice bran oil, cottonseed oil, sesame oil, and peanut oil)
All fast foods
Beverages including but not limited to carbonated beverages, energy drinks, and alcohol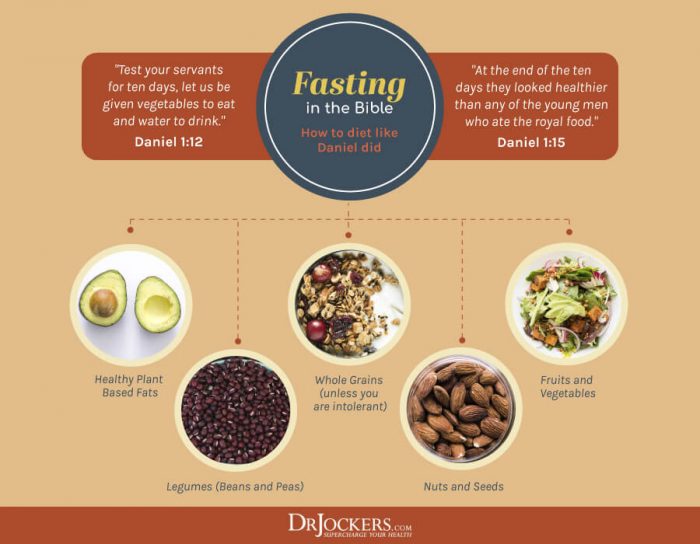 access to the daniel health additional resources (avaialable only to those who register)